Thinking about a solid social media content strategy for your business gives you success across the social media platforms. It is important to take time to create the best social media content strategies otherwise all your social media efforts are useless and don't deliver you the best results.
You need to pay attention to plan your social media content strategy, need to set goals, plan how will you achieve that. You also measure the result to see your effort and planning meet your goal.
It is not always easy to know where you need to start until you never put an even single strategy.
Don't worry about that, in this blog we discuss about 7 proven process to create your social media content strategy.
You need a social media content strategy – why?
This strategy is still underrated.
You can't get massive growth and real result when you posting content blindly on your social media profile without giving value. Due to this, you will not be gaining new followers to convince them to visit your website and convert your visitors into customers or clients by posting content without knowing. This is not working as you expect.
You need to clear about your social media goal like what you want to achieve and how will you get there. This is what strategy you want to make.
When you create a proper strategy that helps you to meet your goal, it will be easy to achieve your goal. It will help you to provide valuable content to your followers and gaining new followers.
Social media is not just a vanity channel, but it is the channel that drives sales and inquiries. If you want social media to work for you, you need predefined strategies for happening this.
7 proven process to create social media content strategy
Do you really think it is hard to create social media content strategy?
Well, the answer is no. It is no hard to develop a social media content strategy. If you follow 7 proven processes to create a social media content strategy, you will easily define your goal, make a strategy according to that, also create and publish content which is right for your audience and measure your effort.
Set goals for your social media content strategy
It is crucial that creating a strategy with knowing what do you want to achieve and will help you to achieve that. If you are working blindly, you are wasting your time and effort.
You need to find KPIs and goals so you will be able to measure effectiveness of your effort.
Did you ever hear about S.M.A.R.T goals?
Let's see what is S.M.A.R.T goals.
Specific – Set goals clear and specific
Measurable – You will be able to measure progress of your goals
Attainable – Your goals are being realistic
Relevant – Goals should be relevant to your business objectives
Time-bound – Set a timer for your specific goals
Start your social media content strategy with setting goals. It will help you to follow other processes.
Know your audience and time for post
 Knowing your audience will allow you to directly talk with your audience with your content. A targeted approach will work far better than try to engage with a wide range of audiences with just a single strategy.
Analyze and define the times when your audience more active on each channel. It will help you to generate higher engagement by sharing your valuable content at the right time. You can get all the insights in your main social media channel.
Insights in Facebook
Facebook insights provide all the information of your audience.
Go to your Facebook business page and click on "Insights" tab.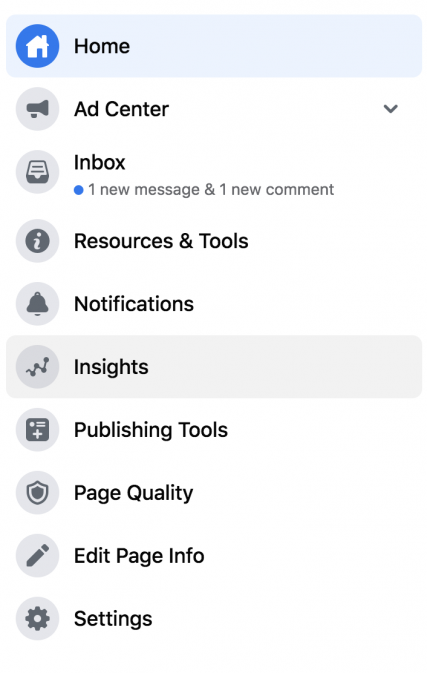 In Facebook insights, you will get enough amount of data on the performance of your page. Clicking on the "PEOPLE" tab, you will find your key audience for your business.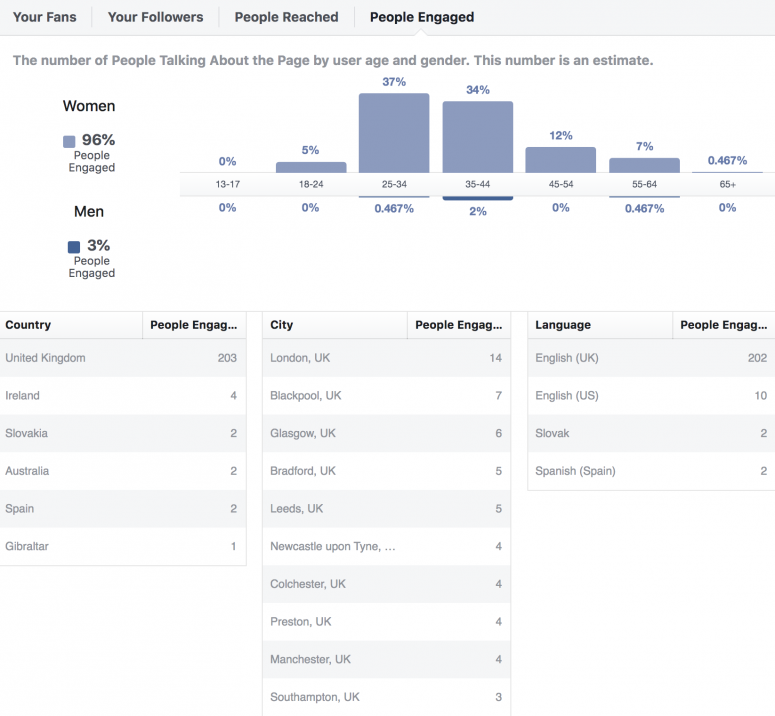 Next, you can click on "POST" tab. It will provide you data of understanding the time and days when your audience more actively.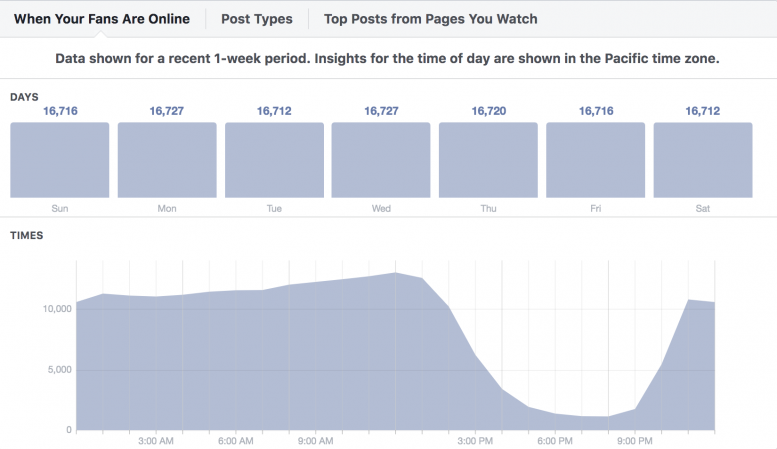 Twitter
Twitter has just deprecated its powerful insight dashboard. But still, you can use it to get some amount of insights about your Twitter performance.
Click on the "TWEET" button top of the page.

You will see the performance of your tweets on this page.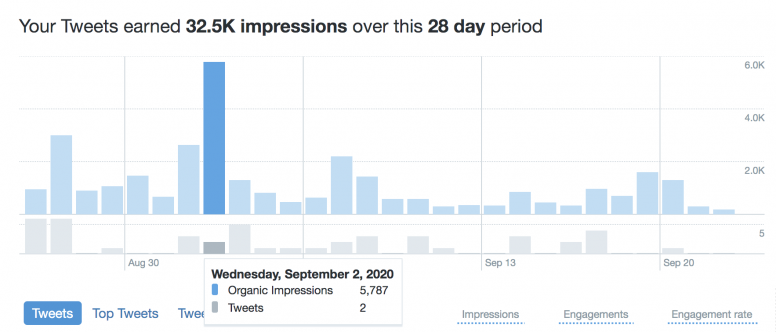 Twitter insights doesn't give as much data as Facebook insights. But it can be help you to see when your tweets perform very well.
Choosing right social media platform for your business
You don't need to every social media platform for your business.
You need to focus on where your audience is active and will engage with your business. If you don't choose the right platform for your business, you will waste your time, money, and energy on that will never give you good results.
Choosing the right social media platform is one of the crucial factor for success on social media platform.
Facebook is good for both B2B and B2C businesses. You will get the support of different content formats, ad targeting options, and a large amount of audience.
LinkedIn is perfect for B2B businesses and also a place where companies position themselves as industry experts by a content strategy based on a strong focus on content and thought leadership.
YouTube is the world's 2nd largest search engine which is beneficial for all types of industries. So need just need to prepare a content strategy for YouTube and publish content in video format.
Pinterest is the favorite platform for eCommerce retailers and business owners to promote visually.
Instagram is might be the first or second choice for the B2C marketplace. They can post engaging photos and images to increase engagement with their audiences. It is usually not more important for B2B businesses.
Plan your social media content and choosing right format
After choosing the right social media platform for your business, you need to focus on plan your social media content and choose the right format to publish that content.
There are many types of content types available. You need to choose the best content type according to your goal.
The best starting point to creating your content is to specify your key message that you want to share with your audience and also mix them with some sales or services post with inspirational, informational, and educational content.
After planning your content, you need to choose the best suitable format related to your goal. There are some popular content formats that I recommended:
Influence collaborating content
Contents and competition
Quiz and polls
User-generated content
Case studies
Live stream
Video content
Don't focus on only one type of content if you really want to get higher engagement from your audience.
Developing content calendar
When you are planning your content, you need to put that content into the content calendar and create a great content calendar. So your team will use that calendar for organizational purposes.
After creating a content calendar, you need to make a commitment and be consistent with that. So you can measure your effort to check it is on track or not and give you a result.
There are many social media content calendar temples available in the market.
Make sure your content calendar updated with time.
Publish content regularly on social media is the crucial point of success on social media. It is hard to stick and very few can do this, but if you do this you will gain a competitive advantage.
According to report, let's see below how much post you need to pose on different social medial platform.
Facebook – 5 to 7 post per week
TikTok – one post per day
Instagram – 1 post or story per day
Twitter – 3 to 5 post per day
LinkedIn – 1 post per day
Pinterest – create interesting boards and sharing relevant images
Publish your content on different social media
It is a very time consuming task, that's why most marketers like to schedule post in advance and it will automatically post on scheduled time. It will save your time, so in this time you can create content for the next week or month.
There are many tools available to schedule your social media post and it will automatically post your content on different social media content.
You can use SEMRush's social media toolkit to schedule your content on different social media platforms. You just need to connect all social media accounts with the SEMRush social media toolkit and you can start scheduling your post in advance.
Analyze and measure your post performance
Remember your social media goal before you planning and scheduling your content. You need to track each post-performance with your goal and see do your efforts meet your goal? Otherwise, you will don't know how many results you get from your effort.
Above we talked about you goal should be measurable, and here you need to identify here.
I must suggest you to measuring your performance on weekly basis based on your goals and KPIs you set.
Conclusion
Never underestimate the power of social media content strategy. This is the clear plan of action for your success. You can make your social media content strategy on your own or you can hire a professional social media content strategist for your success on the social media platform.